About
Born in 1964. 1985-88 studies of classical archeology and art history. At the same time, I am attending events at the "Institute for Art Education". My form of expression is photography, in which the graphic structures fascinate me the most.
1988-91 training as a photographer, from 1992-94 employed photographer, first with a full- and later with a part-time job – what opened up the space for my artistic work.
1994-96 I live in France, where I create several photo series and I connect photography with objects for the first time. In an exhibition there are photographic works from the last few years, mounted on metal plates that are embedded in small tree trunks. The trunks form a circle and stand on earth.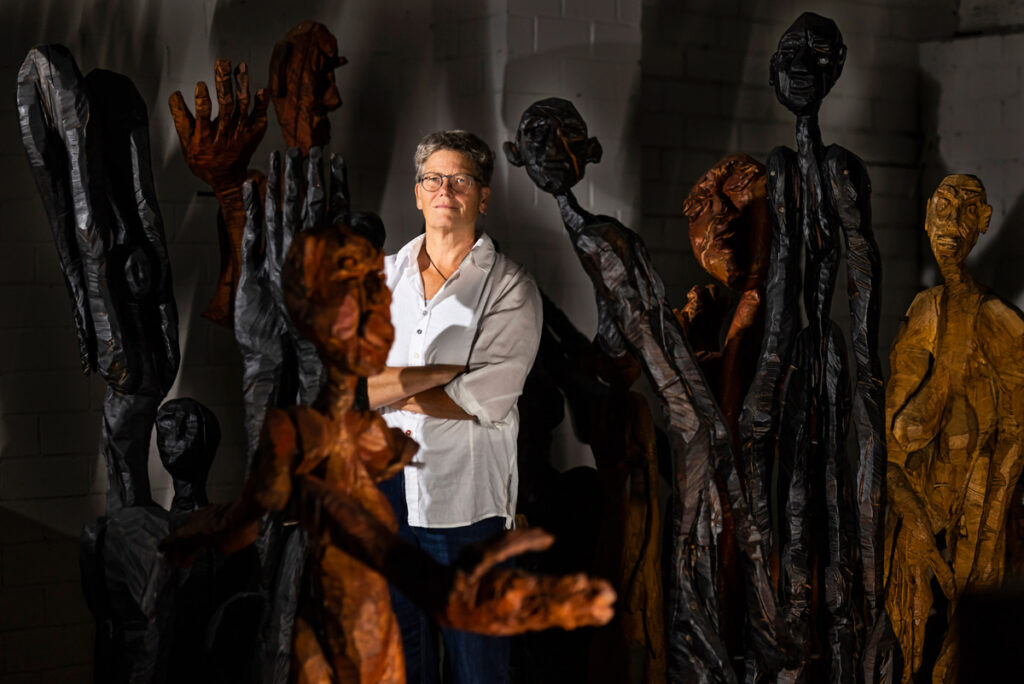 1996 Advanced training in graphics and image processing programs in Cologne. I am fascinated by the possibilities of combining images and words. In 1997 I enter the professional digital world as a employed photographer and one year later I start my own business as a photographer, graphic designer and artist. 
Photography continues to fulfill me artistically, but I increasingly there is a lack of spatial depth and so I set out in search of the "third dimension". Starting experimenting with stones. The result does not satisfy me and the search continues. An exhibition from that time combines photography, image processing and installation. 
I started sculpting autodidactically in 2004, learned how to use a chainsaw and started to work. I've arrived at a good form of expression! The figurative sculptures are usually made from a trunk, from which the form is worked out freely and without a sketch. Work is started with forming head or hands, movement and emotions develop in dialogue with tools and materials. After shaping, the figures are fired and or treated with colored pigments. Abstract sculptures are created as thematic series and crossovers of material – wood with wire, leather, earth, lead – and in connection with words. I combine the sculptural work with photographic perspectives and projects. 
Over time, my work as a sculptor and photographer has met and is interwoven in the second and third dimensions. Welcome to my studio! 
more about the photographer Rendel Freude